The refreshed HyperIn campaign site is now available!
Shopping centers are continuously working towards more effective and environment-friendly approaches to run campaigns - quickly and with modern digital tools. With the HyperIn campaign site, you can easily introduce your shopping center campaign offers, program, and any other relevant information in a clear, customisable layout to your consumers.

The site is powered by the HyperIn MANAGE campaign functionality with an effortless configuration of campaign and publishing dates, as well as categories. Tenants can add their offers directly through the HyperIn service using the tenant view's self-service tools to reduce the overhead from shopping center marketing. Adding, changing, or fixing content is possible even during the campaign. No more sleepless nights over typos in print!
Easy visual customization

The HyperIn campaign site's visual appearance has been optimised for the quick customization of each of your campaigns. This includes the banner, color definitions, background images, or fonts. What's more, the site is fully responsive for mobile users.

Integrate it to your main site to bring it all together

If you have a shopping centre website from HyperIn, you can bring the campaign site to life as a part of your main website to maximise the traffic and user experience.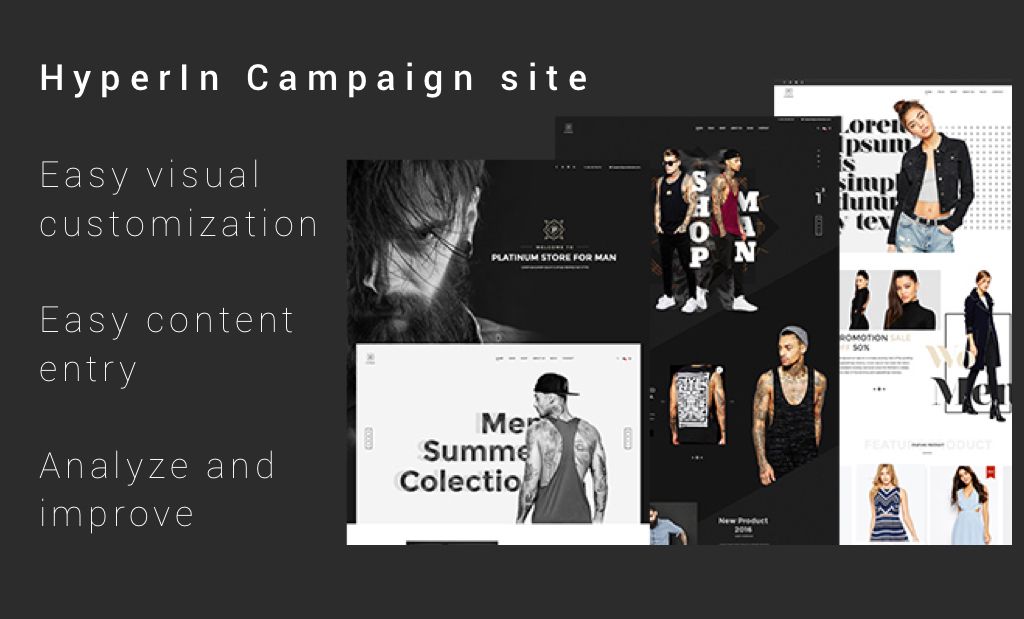 Easy content entry

Tenants can use the HyperIn service for entering offers and there is an offer review option available for the shopping centre management. Campaign categories are fully configurable to provide the optimal filtering experience for the consumers with categories reflecting the campaign themes. They can conveniently filter offers by category or by offer validity date.

Add your program, competition form, videos, and that little bit of extra

Bringing additional content, like a nicely formatted campaign program to the site has never been more straightforward. No to mention videos, campaign forms, links to online magazines, and the like.

Analyze and improve

The campaign site is covered by analytics so you can check the success of your campaign site and plan future improvements based on your analysis. You can also leverage the power of the HyperIn shopping centre mobile app with push notifications and links to your campaign site, along with other HyperIn CONNECT tools, like website lifts, banners and, news articles - published easily from the centralised content management services in MANAGE.

Let's turn your campaigns digital!