Creating high-impact in shopping mall experience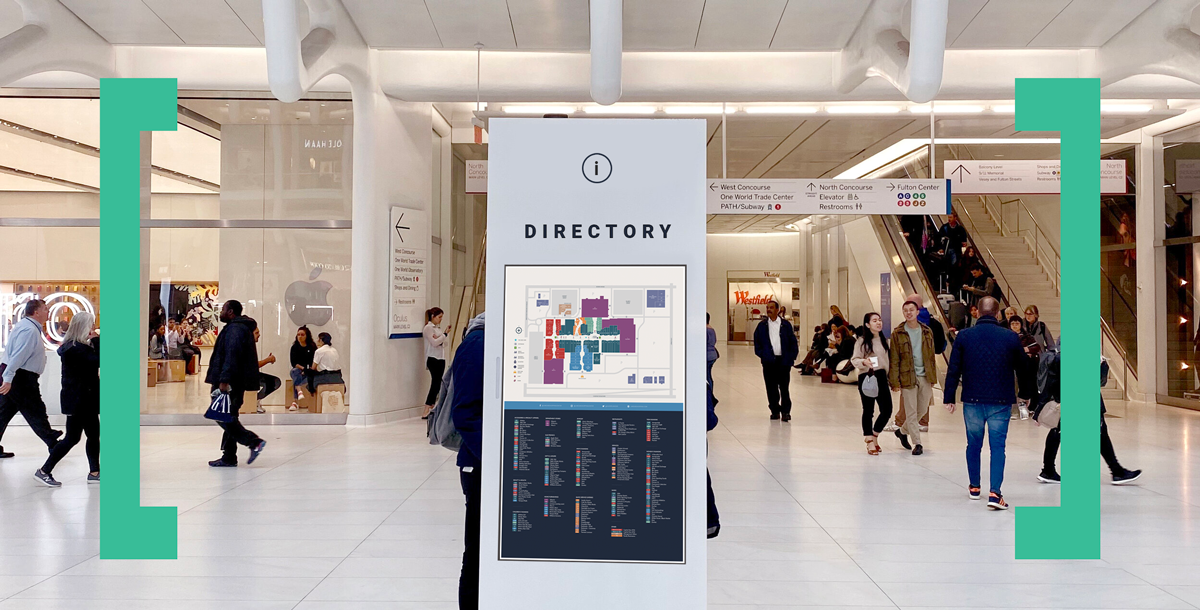 Find out how shopping malls of all sizes use digital directories to create smart spaces and revenue opportunities.
With the constant competition between digital and physical to attract customers, shopping malls acknowledge more and more the importance of interacting with customers using the right engaging tools. Information sharing through smartphones, the immediate environment, and a host of other factors make the competition though.  
The modern shoppers expect to be engaged in ways that meet their communications preferences, they have an increasing emphasis on finding their intended retail items or stores quickly, making the purchase, and moving on. And to keep them returning for more, their shopping experience needs to facilitate an engaging approach.
The need of highly visual and informative content, using advanced integrated visual communication is a must to reach any audience, any time, anywhere, and through any device. As a result, many shopping malls of all sizes are leveraging their digital solutions with modern and engaging ways to improve the visitor's experience and ease their decision-making process, all this while increasing business efficiencies.
Approximately 65 percent of the population are visual learners, so it's likely you'll have several in your group. Visual learners are often called spatial learners and, unsurprisingly, learn and remember best through visual communication.
Making the Most of a Mall's Advantages
The first thing to note is that despite the obvious disadvantages that physical shopping malls have against their online counterparts, they also have plenty of inherent advantages. One of them, if not the most important, is the Digital Signage. It's a modern, state-of-art, and effective solution to improve customer experience and drive revenue. The use of digital displays across strategic points to dynamically and in real-time display store directory, or provide directions for every visitor or customer throughout the property.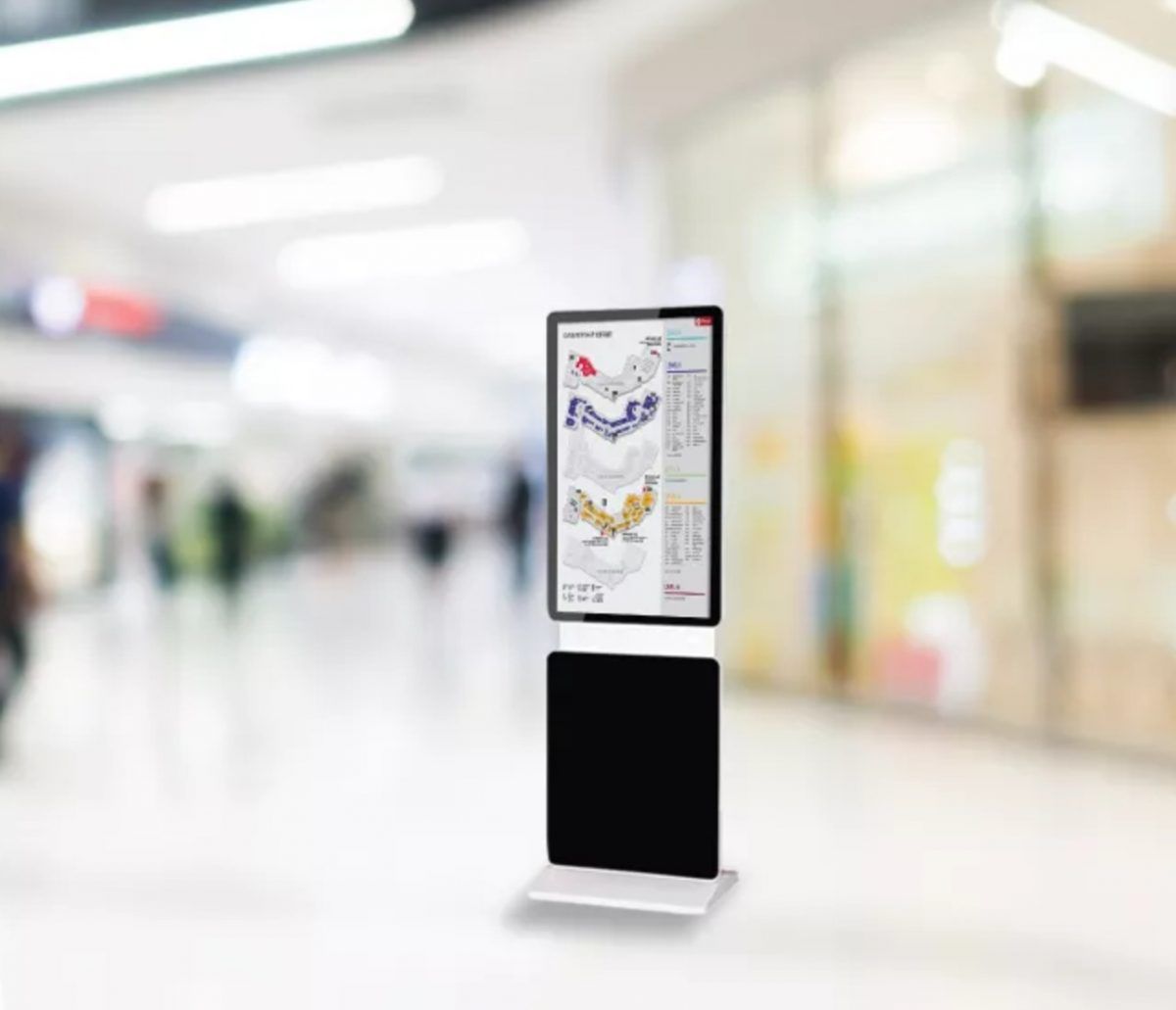 A digital signage directory is an electronic catalog or list of information that displays the location of places inside and outside the premises. They can be statics or interactive touchscreens. The basic purpose of the digital directory is to help an end-user find something inside the premises.
Shopping malls not only can create a beautiful presence with digital signage directories and build a sense of community but also to solve a variety of information challenges, like providing information in real time and streamlining process for content sharing, easily and instantly.
Stores and services located within the premises are listed in the directory, making finding them easier and less frustrating for shoppers. Additionally, digital signage directories can be used to display digital advertisements, since they tend to be placed in strategic points and "busy areas" across the premise such as the entrance of the shopping malls and elevators.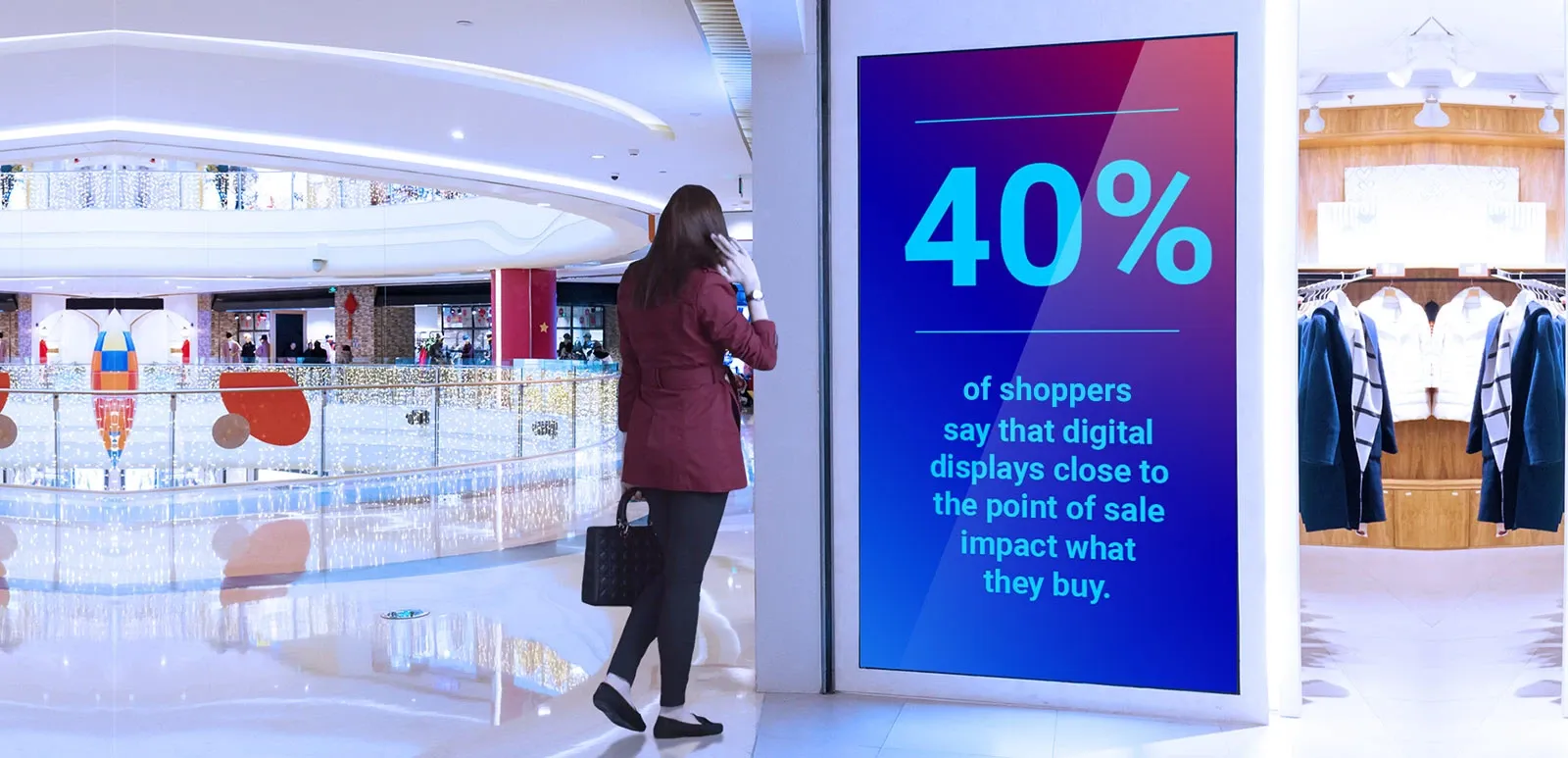 Digital Signage Directories vary widely in price depending on the display size, the information shown on it, integrations, and the components chosen, as well as the desired functionality, but in general this solution is significantly more cost-effective, flexible and environmentally-friendly compared to print directories. The use of monitors designed for this purpose is highly recommended, as they last longer and the image quality is sharper compared to televisions or other random monitors. We suggest to always invest in quality.
The content of an information digital display is proven to be more effective than traditional paper-directory. Movement has been studied to be the most sensitive stimulus to humans.
Eventually, the non-touch displays are limited in their functionality if compared to the large-size touchscreen displays enclosed into a kiosk, where you can add a wide array of functionalities such as wayfinding, digital advertising, DS video player, just to name a few functions that can help improve the shopping experience and business performance.

HyperIn Digital Signage Directory - A branded and unified experience
HyperIn is a turnkey platform for shopping mall management, tenant engagement and connecting the digital and physical consumer journey. The platform offers a wide range of tools and functionalities for mall management, such as automated sales reporting workflows, Mobile Intranet, Content Management System (CMS) connected to multi-channel communication and loyalty apps among others functionalities, as well as wayfinding and Digital Signage directory.
The HyperIn Digital Signage Directory is a solution that visually stimulates shoppers to find what they are looking for inside the premises. It also allows shopping malls to centrally and dynamically manage all the store-listing and floor map data efficiently through the content management tools provided by the HyperIn Platform. Shopping mall managers, tenants, and even advertisers can set up advertisements with ease.
Property 3D maps can be brand-customised to be consistent with other digital or in-person experiences that customers are interacting with. With HyperIn Digital Signage Directory you can modernise your shopping mall spaces, while keeping visitors informed.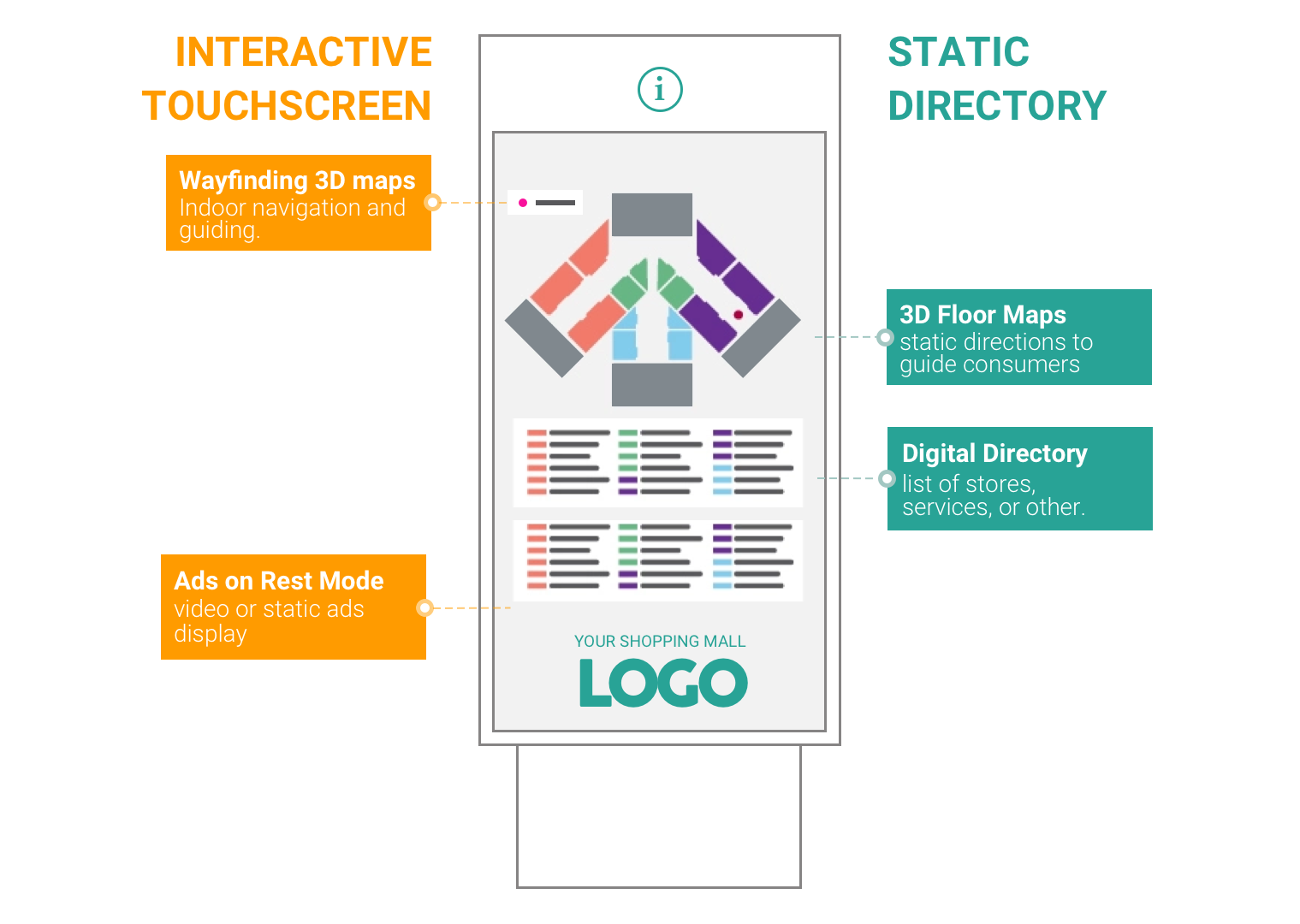 HyperIn provides a simple onboarding process and offers any creative assistance needed, and then deploying to any player or display, depending on the type of Digital Signage Directory chosen, touch and non-touch screens.

HyperIn Digital Directory can also play videos and images in advertising formats through advertising partners. They can be passive information displays or made interactive via an implementation of a touch-screen. Digital Signage with touchscreen goes to directory-mode when you touch the screen, otherwise, it will present advertising for tenants or advertisers, which can create extra revenues using Monetize for shopping malls. The screens can be passive information displays or interactive via the implementation of a touch-screen.
The HyperIn Digital Signage is a valuable way to enhance not only the experience of everyone that enters your space, but also drives revenue and delivers brand stories exactly where, when and how you want it.


The Future is Bright for Those Who Adapt
The digital world offers a bright future to shopping malls, but it needs to be fully embraced. Malls should take advantage of digital technologies to highlight their unique value propositions.
Until a digital world in which all five senses - touch, sight, hearing, smell, and taste - are satisfied, shopping malls will always be in demand. The size of that market will depend on how open the mall is to experiment with new ways of doing things.
There are several proven business cases in almost every industry that uses Digital Signage Directory as a communication and engagement tool — making it an excellent investment for any property management.
Want to learn more?
Get in contact and we will surely help you to take your shopping mall management to a whole new level.

Share This Article
---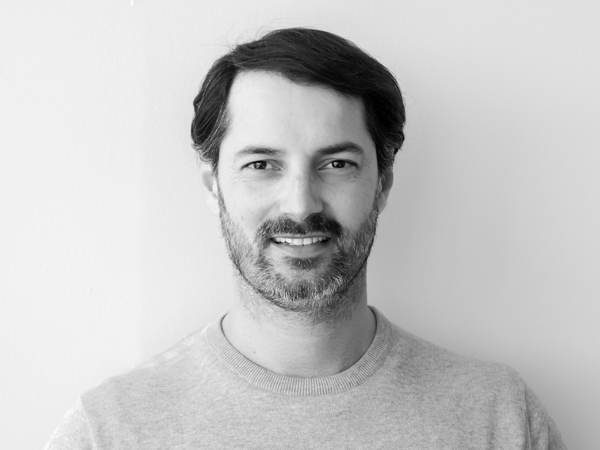 About Jean Carlos Delgado
A resourceful brand, marketing, and business development professional with over a decade of international experience in marketing, branding, technology and business development. His professional background comes from working with global brands in different continents and the growth of diverse and innovative teams.
LinkedIn
---
Have You Signed Up for Our Newsletter?
The Growth Newsletter brings you the information you need to stay ahead in the ever-changing world of Retail Real Estate.
We will send you the latest market insights, products updates and the best stories written by industry leaders. Join now and change your game in commercial real estate management.
---
HyperIn Inc. © 2022. All rights reserved.